LiveChat.com (previously known as LiveChat Inc) is a popular platform powering 35 thousand companies and 200 thousand of customer service agents who are assisting around 75 million users worldwide with their daily questions. In this LiveChat review, we'll go through its features, benefits and pricing.
Unlike email or FAQ support, live chat software allows users to have a direct and immediate experience.
LiveChat's features make it an ideal tool for companies using live chat as a support and sales channel. However, LiveChat is more than just another live chat tool. It offers various integrations, rich messages, team management features, and multilingual widgets. LiveChat is one of the top choices for a live chat solution. It works great and is fun to use. The ticketing system is a unique feature that differentiates them from the rest.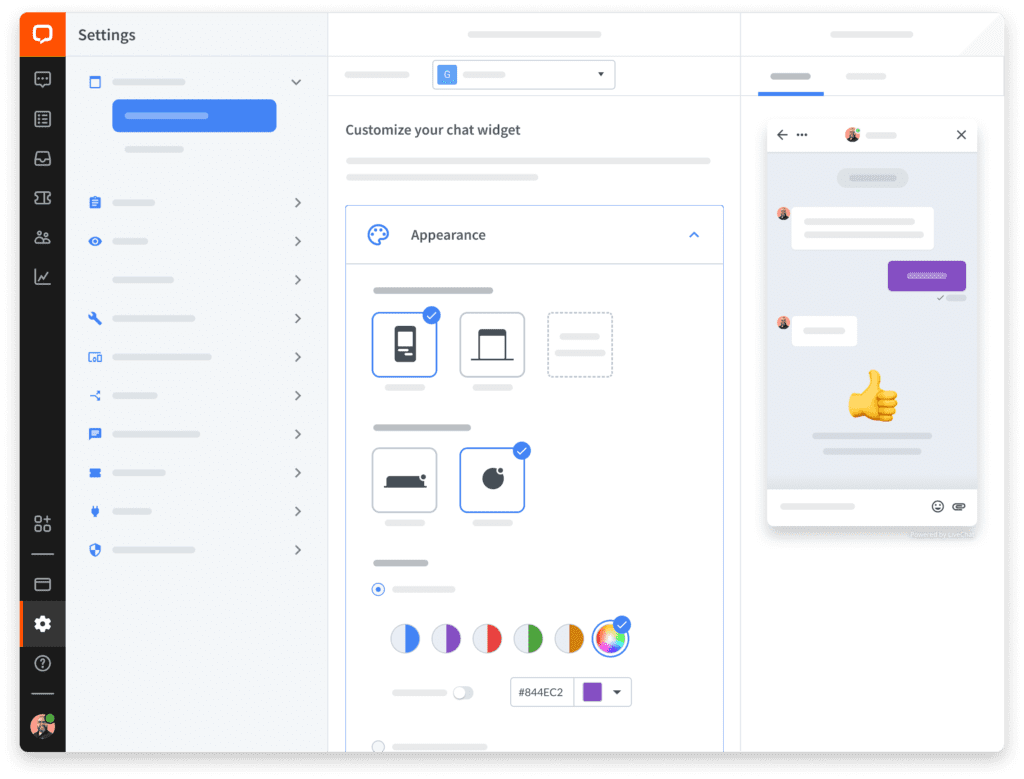 Although it is not necessarily the most affordable live chat software, it is one of the best. Their customer service is excellent and, without a doubt, their software provides a great experience.
LiveChat Review: features
LiveChat is packed with add-ons, features and integrations. Anyone can add a customer service platform to their website. You simply copy and paste a snippet of code, and many plugins and apps can automatically integrate LiveChat with popular CMSs like Woocommerce, Drupal, WordPress or Shopify.
Integrations
LiveChat integration capabilities are fantastic. LiveChat has a marketplace where you can link it with over 200 popular apps and tools, including popular services like Whatsapp, Message Translator, Zoom, Stripe, Google Analytics and much more. Integrations and apps are available for all plans. For example, you can add Facebook Messenger, meaning agents can chat with a user without creating a Facebook account. All communication channels are integrated into one place. Or you can upgrade chats to voice, video, and screen sharing if you like! In addition, there are integrations with some top email marketing services and CRMs (including Salesforce, Hubspot, Mailchimp and more). Finally, it has native integrations with Chatbot, Knowledgebase, and Helpdesk (all by LiveChat). All these features can be integrated into LiveChat, some are free some others cost extra (typically about $5-10 per month).
Widget customization
Depending on the plan, you get basic or full chat widget customization capabilities, you can add your company logo, colors and fonts to ensure it matches your website's look and feel. You can also control the position of the Chat Widget onscreen so that customers have the best possible experience when they open up a conversation with you.
For an optimized experience on mobile, LiveChat allows you to set the Chat Widget to display differently for tablet and smartphone users. This way, your customers can quickly contact you no matter their device.
With LiveChat's customization options, it's simple and easy to make sure the chat widget looks professional, modern and in line with your brand.
Canned Responses
LiveChat offers pre-made templates for frequently used replies.
You can save any reply as a canned response and reuse it later. It helps to trim your response times and save resources.
Security
LiveChat provides the highest level of security for customers and agents. All connections to LiveChat servers are encrypted with 256-bit SSL protocol, which is the industry standard, ensuring that all chat data remains private and secure. This applies to agents using the application and customers using the chat widget on your website. For sign-in security, for premium plans there are also a 2-Step Verification and SSO.
The great feature is that you can select whether you want to use US or EU datacenter. The top plan adds HIPAA compliance.
You can van disruptive visitors from starting a chat on your website is an effective way to ensure that your customer service conversations remain productive and helpful. Agents can quickly identify troublemakers by monitoring their behavior in the conversation, looking for signs of aggression or inappropriate language.
Qualifying Leads
Livechat can be a valuable tool to help qualify leads and ensure that your sales team is focusing on the most promising opportunities. You can get an instant pulse on what potential customers are looking for and quickly determine if they would make a good fit for your company. You can ask questions about their needs and gather feedback on the customer experience. This allows you to instantly gain insight into their buying preferences and adjust your sales approach if needed. With this information, you can prioritize leads that are more likely to convert and increase your chances of closing a sale. With its ability to quickly qualify leads and create stronger relationships, live chat is an invaluable tool for sales teams looking to close more deals.
LiveChat Review: Pricing
There are four pricing options: the most affordable package, "Starter," is $20 per month per agent. It includes one automated greeting, chat history and the ability to track up to 100 people in real time.
The "Team" plan ($41) is for you if you require chat history, unlimited greetings, and analytics. The "Business" plan ($59) is for larger teams and even enterprise-size companies. It includes a staffing prediction module and a work scheduler module and more.
LiveChat typically provides a 14-day trial (no need to provide a credit card), it's available for the Team plan. But we found a way to offer our readers an extended 30-day free trial.
LiveChat Support
It's intuitive, and understanding the product once you have added it to your website is simple.
The highest plan, "Enterprise," has exclusive features like training for your reps, a dedicated account manager and even legal assistance.
Seats vs. Agents
LiveChat is used to limit the number of agents and seats. This meant you could add any agent you liked, but only one could occupy a seat at a given time. It is possible to add additional agents. Any plan can be customized to add additional agents.
LiveChat Canned Responses, you only have to type the answer once, save it, and reuse it in chats and tickets whenever you need it. Canned responses are a great way to manage if you continually receive the same questions. They can save valuable rep time and resources.
LiveChat agents: How does it work?
Log in as an agent and select the timeslots you want to be available. You can then choose whether conversations are distributed automatically or manually.
Automating welcome messages and pre-chat questions can make chat more efficient. You can also use canned responses to repetitive queries. Chat agents can direct visitors to other agents if they encounter a problem.
Users can leave feedback at the end of the chat. In addition, LiveChat automatically opens a ticket to help you solve the problem and sends an email follow-up. This will save you time and help you avoid situations when a customer is left without a follow-up.
Chatbot Integration
The chatbot can handle multiple customers simultaneously. Although it is not personal, it can help your visitors get immediate answers.
Chatbots are not included in any LiveChat plan. Chatbots start at $50 per month and require a "seat".
LiveChat Reports
If you like data, you will like LiveChat reports. There are reports on the average chat length, user locations, customer satisfaction, and many more. In addition, you can see how many visitors you have at any given time and whether you have enough agents to deal with them.
Routing
The chatbot can greet customers and with a help of AI quickly route chats, classify and segment visitors based on what they do on your website.
Filter chats by country and automatically route customers to agent groups that know their language, providing multilingual support.
You can also see how customer feedback has changed over time. Did you have to solve complex cases differently? All reports are included in the Team plan or higher. You can also purchase individual agent performance reports via the LiveChat Marketplace. Prices are per agent and per report.
Pros
Fantastic automation and integration abilities. Some of the best integration capabilities on the market. Can be integrated with over 200 popular apps.
Excellent co-browsing feature.
Automation, canned responses, native integration with a chatbot solution
Outstanding reliability
Customization options are excellent.
The reporting and analytics features can bring the team's performance to the next level.
All around, it's a fantastic, premium quality software and our top pick.
Cons
It is relatively more expensive than some competitors.
The learning curve can feel steep for some people.
It could be overwhelming to integrate with larger websites.
LiveChat Review: The Verdict
LiveChat.com is one of the best picks on the market today. It works great, is well-integrated and supported, and provides a seamless customer experience.
LiveChat's features make it an ideal tool for businesses using live chat as a support or sales channel. Its extensive integrations, rich messages, team management features, and multilingual widgets make it more than just another live chat platform. Although it isn't the most affordable live chat software, it is undoubtedly one of the best. Feel free to give it a try (no card required 30 day trial here).